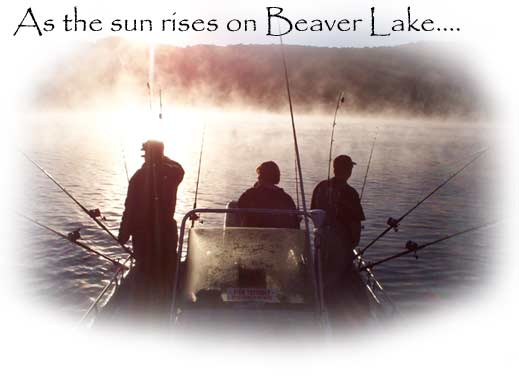 The sun has yet to rise, but your guide is already preparing the boat, loading it with live bait and sharpening hooks. When you arrive at the docks your guide awaits to take you on a true fishing adventure at one of many honey holes that has made Beaver Lake famous for incredible striped bass fishing.

As the boat departs from the dock and makes it's way through the cove to the main lake, you can feel your excitement grow. Depending on where the guide has located fish, you will soon be arriving at your fishing hole. The first thing that you will do is start dropping lines into the water with instruction from the guide. Once you and your group get all the lines out, you MAY be able to relax for a moment, but relaxing is something you are not going to do for very long.

The sun is starting to rise and the lake is peaceful until you hear one or two of the baitcast reels peeling out line as the Stripers crash your bait. You can't get to the rod quick enough, but once you do, with every ounce of energy, you set that hook and drive it deep into the Stripers mouth. Now you just hold on for the ride of your life, battling one of these impressive fish.

Throughout the morning or the day, you will be switching excitement between you and your friends as each you of take your turns and conquering the Striper.

This could be the trip of a lifetime. It is known by many avid fishermen that Beaver Lake holds many 40lb fish. And for the lucky few, a fish over 60 pounds could be cruising around your bait., so if you are looking for a trophy, this is your chance. You can't find fishing like this on Lake Texoma, or anywhere else for that matter.